Art'M Gallery, has been created and openned in 2001. Martine Retter exhibites permanently her unique and original créations.
The Gallery is located in old village house built in the 1800s in Pontcharra center, a small city in the the Alps, 5 minutes from exit Pontcharra on A43 Highway between Grenoble & Chambery.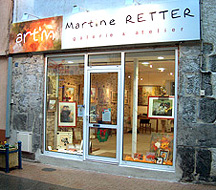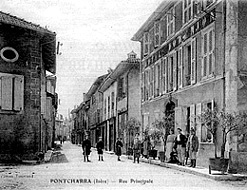 Art'M is an art forum location…
Every master piece are unique and the exclusive creation of Martine Retter. Several technics are showned (oïl on cavans, acrylic, pastel, pencil, inks, water colors) this wide diversity is also representative of the subject matter (landscapes, gardens, flowers, portrait, abstract).
The Gallery is open every day (except sundays) when the artist is present in her workshop (don't hesitate to ring the bell !). In case of absence, please call to take an appointment.
Information :

Art'M Galerie & Atelier
36, rue Docteur Charvet
38530 PONTCHARRA
Isère – France
Open every day,
(except sunday) when the artist is present
Or appointement by phone or e-mail


Local calls (06 81 04 49 89) - International (+33 681 04 4989)


martine.retter@art-m.eu
Map :